Symphony No. 1 "El compendio de la vida" (Life's abridgement)
It was written in 1993 and is dedicated to his father, the conductor Mario Benzecry.
It was premiered in 1994 by the National Symphony Orchestra, under the baton of Pedro Ignacio Calderón, with a big success of public and the specialized critics. Precisely, the Musical Critics Association of Argentine, awarded this symphony, as "The most important argentine work premiered in 1994".
The work has four movements, each one, inspired in four pictures painted by the composer: The "Life's Abridgement", "The War", "The Peace", and the "Culture's Summary".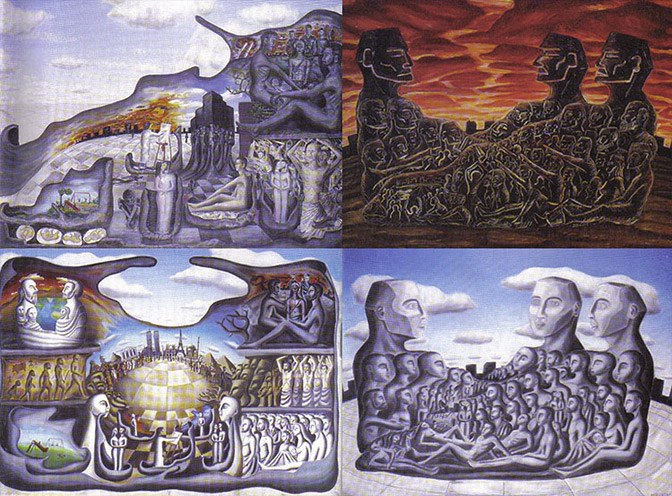 The first movement, "Life's Abridgement", starts with un Adagio who alternates with moments of agitation and timbric richness. The second movement, "The War" begins very calm, with some menacing motifs, gradually crescendo to a climax of great rythmic power and agitation to the end. Suddenly appears "The Peace", built by a ten bars Choral which is the base for the third movement with some touchs of color in the orchestration of the woodwinds, always in a very calm atmosphere.
The "Culture's Summary", fourth movement of the symphony, was built in a A-B-A-C-A-B-A schema that sometimes remember the Bartokian's mirrors. The central section is elaborated in complex rhythms, with a important timpani's solo.
It is very important to say about the sequences of the movements that in Ufe, after the war come.
Year
1997
Instrumentation
(Picc.). 2.2.2 - 4.3.3.1, Timb. Perc (5), Harp, cel, cordes.
Duration
28 m.
Premiere
Orquesta Sinfónica Nacional de Argentina 7/9/1994 Buenos Aires, Auditorio de Belgrano.
Conductor
Pedro Ignacio Calderón
Prize
1994 de la asociación de críticos musicales de Argentina.
Published
contact@estebanbenzecry.com
Audios
Discography
Rental Info
https://www.estebanbenzecry.com/wp-content/uploads/2019/08/logo-esteban-benzecry.png
0
0
radmin
https://www.estebanbenzecry.com/wp-content/uploads/2019/08/logo-esteban-benzecry.png
radmin
2019-07-16 18:35:11
2021-05-17 17:16:48
Symphony No. 1 "El compendio de la vida" (Life's abridgement)